Is a new tram system on the cards for the seafront?
A grant from the European Union will allow work to start on considering the feasibility of a seafront tram from the Old Town to Grosvenor Gardens.
The £133,000 grant is from the EU 'Destismart' scheme which is all about developing sustainable transport solutions.
Councillor Peter Chowney, leader of Hastings Borough Council (HBC), said this week: "Some time ago we proposed the idea of a sustainable seafront transport link, in the shape of a mini-tram along the promenade from the Old Town to Grosvenor Gardens. Work was done to investigate the potential route, and whether it would fit between the seafront structures… But it was put on hold pending further research on potential usage, and whether there would be enough year-round demand to pay for it."
To fund that developmental work HBC applied for a grant from the EU but the Destismart grant programme was repeatedly delayed. However, HBC has finally been awarded the cash so will  be able to research and develop a detailed business plan, carry out potential passenger and usage surveys, and investigate potential capital funding to actually build the system, if the council decides to go ahead with it.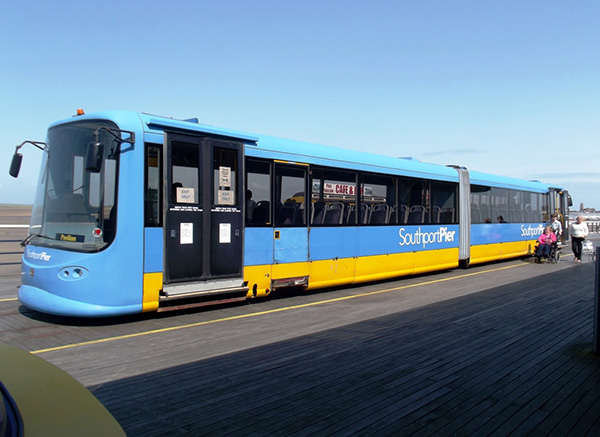 The proposal is for a 'trackless tram' to run along the seafront promenade. The best HBC has seen so far is a lightweight electric vehicle manufactured in the UK by Severn Lamb, in Warwickshire. It would carry around 30 people, although there are options to extend that with additional carriages.
The service would help connect the Old Town to the pier, as well as encouraging tourists to explore areas beyond that, including St Leonards town centre and Grosvenor Gardens. It would also be an all-year-round practical transport option for local people, running all the way along the seafront.
The tram would run on tyred wheels rather than rails but would follow a defined route marked by electronic transponders, which would guide the vehicle. This makes it suitable for areas that are busy with pedestrians.
The vehicle would travel at relatively slow speeds, around 16kph maximum, but even so that would cover the distance more quickly that it is possible to do by car given traffic volumes along the seafront.
The plan is that HBC would operate two trams to provide a service that could run half hourly at busy times, with both trams running, Mr Chowney says the council did consider running the tram along the road, but that was much more difficult as it requires different licences and requirements for a road-going vehicle and would actually contribute to congestion.
Mr Chowney says: "Work on developing the proposal will begin when we get the Destismart money, later in the summer. It could also involve bringing a 'test' vehicle to Hastings, to see how it works in practice."